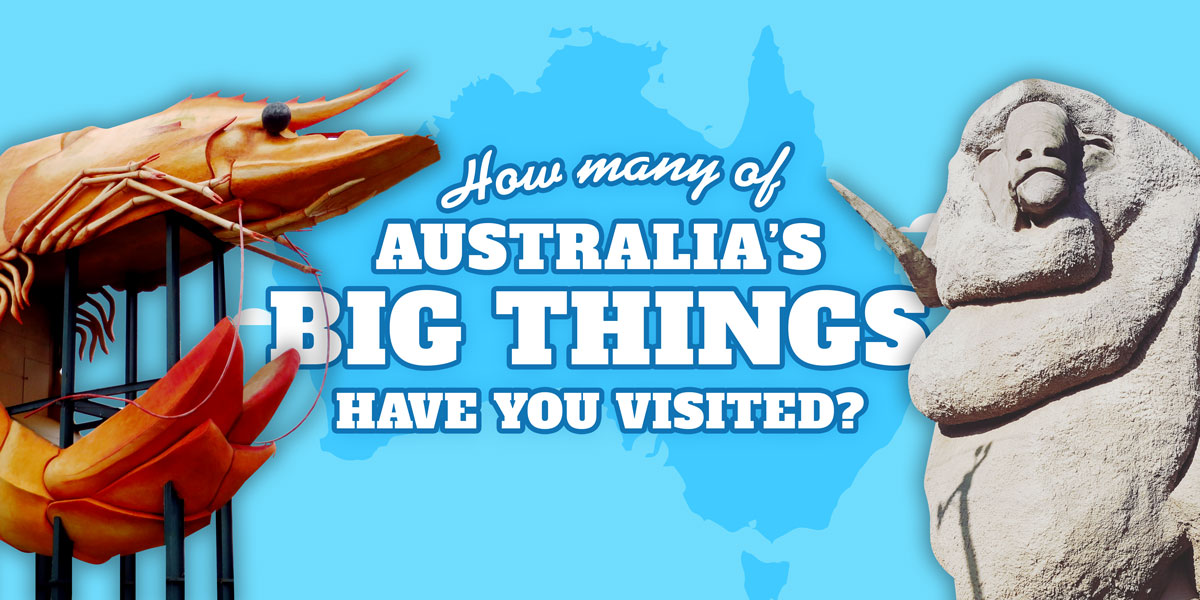 How many of Australia's 'Big Things' have you visited?
Scattered across the nation, there are apparently over 150 'BIG' attractions that you can visit. From the famous Big Banana in NSW, to the Big Penguin in Tassie, each state has it's own share of 'BIG' things and we've compiled 30 of the most popular locations for you to tick off the bucket list!
Get the car, snacks and camera ready because we've got the ultimate road trip for you.
Make sure to scroll down all the way to tell us how many places you've visited in the quiz below!
---
NEW SOUTH WALES
1. The Big Banana
Coffs Harbour, NSW
2. The Big Bogan
Nyngan, NSW
3. The Big Merino
Goulburn, NSW
4. The Big Potato
Robertson, NSW
5. The Big Prawn
West Ballina, NSW
6. The Big Kookaburra
Kurri Kurri, NSW
7. The Big Ugg Boots
Thornton, NSW
---
VICTORIA
8. The Giant Koala
Dadswell Bridge, VIC
9. The Big Ned Kelly
Glenrowan, VIC
10. The Giant Murray Cod
Swan Hill, VIC
11. The Big Strawberry
Koonoomoo, VIC
12. The Big Pheasant
Tynong, VIC
---
SOUTH AUSTRALIA
13. The Big Galah
Kimba, SA
14. The Big Kangaroo
Bordertown, SA
15. The Big Lobster
Kingston, SA
16. The Big Rocking Horse
Gumeracha, SA
---
NORTHERN TERRITORY
17. The Big Boxing Crocodile
Humpty Doo, NT
18. The Big Aboriginal Hunter
Alice Springs, NT
---
QUEENSLAND
19. The Big Rum Bottle
Bundaberg East, QLD
20. The Big Melon
Chinchilla, QLD
21. The Big Mango
Bowen, QLD
22. The Big Easel
Emerald, QLD
23. The Big Cane Toad
Sarina, QLD
24. The Big Pineapple
Woombye, QLD
25. The Big Pelican
Noosaville, QLD
---
WESTERN AUSTRALIA
26. The Big Crocodile
Wyndham, WA
27. The Giant Ram
Wagin, WA
28. Leeuwin Way Whale
Eucla, WA
---
TASMANIA
29. The Big Penguin
Penguin, TAS
30. The Big Tasmanian Devil
Mole Creek, TAS
31. The Big Wickets
Westbury, TAS
32. The Big Coffee Pot
Deloraine, TAS
33. The Big Cherries
Latrobe, TAS
---
All images and copyrights belong to their respective owners as listed.
Let us know how many places on our list you've visited below!