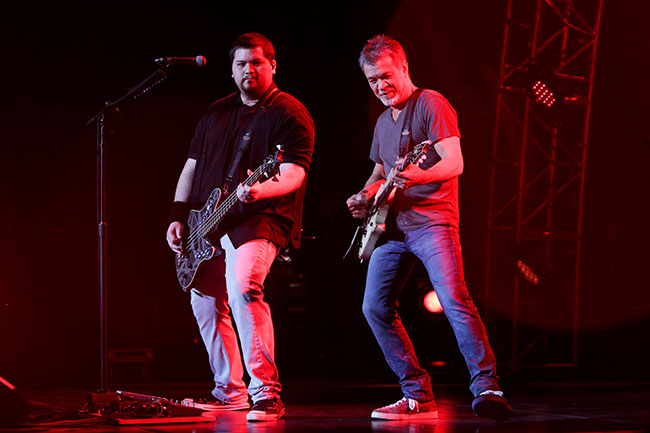 Eddie Van Halen's son Wolfgang has released a heartfelt song in tribute to his dad called Distance and it's an emotional ride.
In the song, 29-year-old Wolfgang reflects on life without his dad and bandmate, with lyrics including: I'm still cryin' / Don't want this place / A world without you / I don't think I'll ever move on / No matter what the distance is I will be with you
It's a sentiment Eddie's fans also relate to - and indeed anyone who has lost a loved one - and has already had nearly 1.5 million views on YouTube since its release on November 16.
In the song's description on YouTube, Wolfgang wrote he'd been thinking about life without his father even before his death last month.
"As my pop continued to struggle with various health issues, I was imagining what my life would be like without him and how terribly I'd miss him," Wolfgang wrote. "While the song is incredibly personal, I think anyone can relate to the idea of having a profound loss in their life."
The song's music video features home video footage of Eddie and Wolfgang's sweet relationship, from Wolfgang as a baby to him playing alongside his dad. It's a perfect accompaniment to such an emotional song, and ends with an emotional punch to the heart with audio of Eddie leaving a voicemail to his son.
Distance is Wolfgang's first single from his upcoming album and he admits he didn't expect this would be the first song to come from it.
"I never intended 'Distance' to be the very first piece of music people would hear from me, but I also thought my father would be here to celebrate its release. This is for him. I love and miss you, Pop."
Image: Eddie Van Halen (R) and son Wolfgang Van Halen of Van Halen perform onstage at Jones Beach Theater on August 14, 2015 in Wantagh, New York. (Debby Wong / Shutterstock.com)